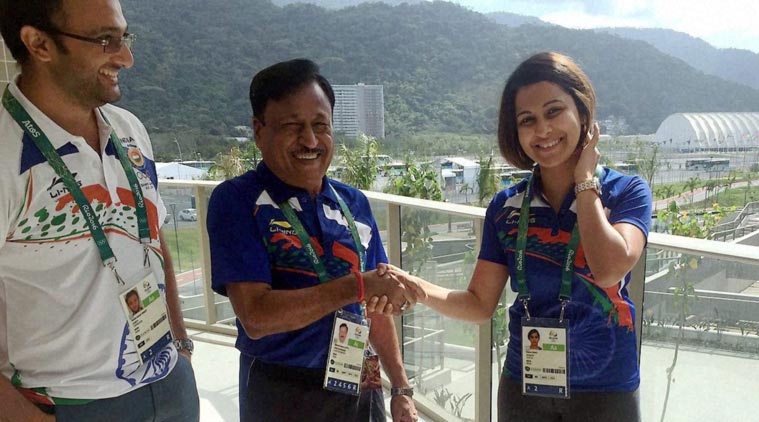 It's enlightening to be left behind by a shuttle bus after a women's air pistol final at the Deodoro range in Rio. To linger and watch what happens when the Indians have packed up, and taken their half-baked, wishful dreams to another arena. On Sunday, the sport to fall back on is archery — by no measure as assured or poised in India as shooting. In a room full of close to 100 journalists, who are furiously filing about the business end of the 10m pistol, all you overhear is boisterous Chinese and (on this day) a slightly downbeat but not disgraced Russian. Foreign languages and alien accents that might hold the key to unlock the mystery that a warped Indian mind can't figure: Why has no Indian woman shooter ever won an Olympic medal?
The venue has given China its first gold medal of the Games, where Zhang Mengxue — a young pistol shooter who's only made the national team two years ago, has won gold. Changed rules in shooting mean crowds can din away inside the Finals hall and a Chinese journalist — clearly more rattled than his country's shooter — wants to know how she managed. "My coach told me the only person who could disrupt me was myself. I did best to stay calm," she would say, adding, "As a new member of the Chinese team, my main objective was to make the final. The fact that Chinese favourites (in women's air rifle a day before) did not win gold didn't bother me. I am new, I did not have any pressure."
It effectively punctures every theory in India that its own three shooters — Ayonika Paul, Apurvi Chandela and Heena Sidhu — were too young, too inexperienced, too rattled on this mammoth stage to deliver what could have been India's first Games medal from a woman shooter.
On match-day the entire onus to bring the medal — make the final, calm the nerves, get the job done by putting yourself into contention — falls on the shooter. And though it would help to understand, ingest and then chew on the fact that Russia (Europe at large) and China have tremendously advanced systems (weapon technology and technical coaching expertise) when compared to India, it might not be a wrong time to question the mental make-up of India's women shooters over the years, who don't look like they are close to cracking the Olympic medal code.
Lazlo Scuzak, who brought India's first generation of women shooters up to scratch on international standards, was at hand at the Deodoro range to say that the Indians would need to go back to the drawing board and chalk out a sturdier system for its women if they want to ever medal at the Olympics. "Right now everyone's doing their own thing. You need to put them in a collective national camp, which brings the right measure of intensity and discipline into their way of thinking. Without that, no chance," he would remark.
It's not like Heena, Ayonika or Apurvi are indisciplined in the literal sense of the word. To the contrary, Ayonika and Heena are far too intense — both their coaches would agree, and Apurvi is extremely earnest and diligent. "I think they are good quality shooters. But dealing with Olympic level pressure is very different. It's not about training scores or past records. Winning an Olympic is dealing with the pressure of that one day. They need to be in a national camp under a world-class coach," Lazlo adds.
A senior Indian shooter has approached him, in fact, to work for short stints with a group of the rifle squad, and he is considering it seriously after his assignment with Iran — he's taken them to another level — ends. "I am in talks and will love to work with Indians. But not full time," he says.
Lazlo's 65, misses watching his grand children grow up and might be a good short-term arrangement — also only for rifle and the elitest of shooters. Beyond that, the Indian federation will need to take a few urgent calls because despite providing the best facilities, a medal's not even in touching distance with no Indian woman even making the final.
India has sent 3, 2, 4 and 3 women to the Olympics at Athens, Beijing, London and Rio respectively. They've gone in with impressive credentials — this time Heena Sidhu was a world-record holder who had previously won the mother of all World Cups and ranked No 1. "What's done is done. Next event on 9th," she would tweet later. Hoping that luck shines on the 25m pistol, though the air pistol was her pet event. Except, it takes more than luck.
Three qualification rounds ended so tepid for India — Apurvi never quite taking off (finishing 34th), Ayonika flubbing her last series (finishing 47th), and Heena just not managing to hit the required cut-off at the biggest stage. It was 384 today, and Heena has shot that score over a dozen times at the World Cups.
Current personal coach Stanislav Lapidus snaps his phone open and shows a score-sheet from a day before the Rio D-day where Apurvi had shot 210.3 after the first two series — 105.2, 105.1. There were great groupings in there (a cluster of targets punched close to each other meaning she was hitting the mark well in training) but on competition day, she never looked that good. The coach would rustle up an explanation. "All these days she's been staying peacefully in her flat. A night before her event, fresh athletes from Indian contingent arrive and there's obviously noise and ruckus of the opening ceremony in rooms adjoining her's. She's too polite to complain — and I wish she had — but it ruined her sleep on the eve of her match."
A possible scenario alright, but it's been a low year for Chandela at the World Cups. Ayonika too qualified late, pipping Pooja Ghatkar to the second air rifle spot by earning her quota. Ghatkar's shot well when not under pressure, but both she and Ayonika have shown fragile temperaments at the highest stages, and the mystery of why so, remains unsolved.
"There's nothing more in terms of facilities or support that was lacking honestly. But in the end the shooter will have to negotiate the challenges on the range herself," Viren Rasquinha of Olympic Gold Quest, said, disappointed from how the results have panned out.
Scores from the international competitions in the lead up have been prescient. "It's not like athletics that you peak towards the Olympics. If you see the top 8 finalists in pistol and rifle, they've all been in World Cups pretty consistently recently," he adds. Training scores have failed to translate into finals, and it's an almighty worry for all. "It's about dealing with pressure, knowing what to do to get the job done."
Abhinav Bindra (just two bronze from World Cups) and Gagan Narang (not the most dazzling of months leading up to London) have the ability to hit the high gears at big events. But that's not the case with the women.
Ronak Pandit might have put in his best in guiding wife Heena through qualification, but if India's sports history is anything to go by (eg Anju Bobby George, Krishna Poonia), husbands coaching wives has severe limitations and the need for a full-time pro coach will always be debated, whether the shooter herself agrees or not. In sport, comfort zones are often anathema.
It's enigmatic because this is perhaps the best that the scene for women's sport has looked in India. Sania Mirza and Saina Nehwal play week in week out on international fields, and winning titles is integral to building confidence and gaining a reputation of being strong competitors. India's women shooters, sadly, have been too flash-in-the-pan, and on the evidence of the first two days in Rio, they aren't exactly the sorts to turn up and play the big match.
Share this